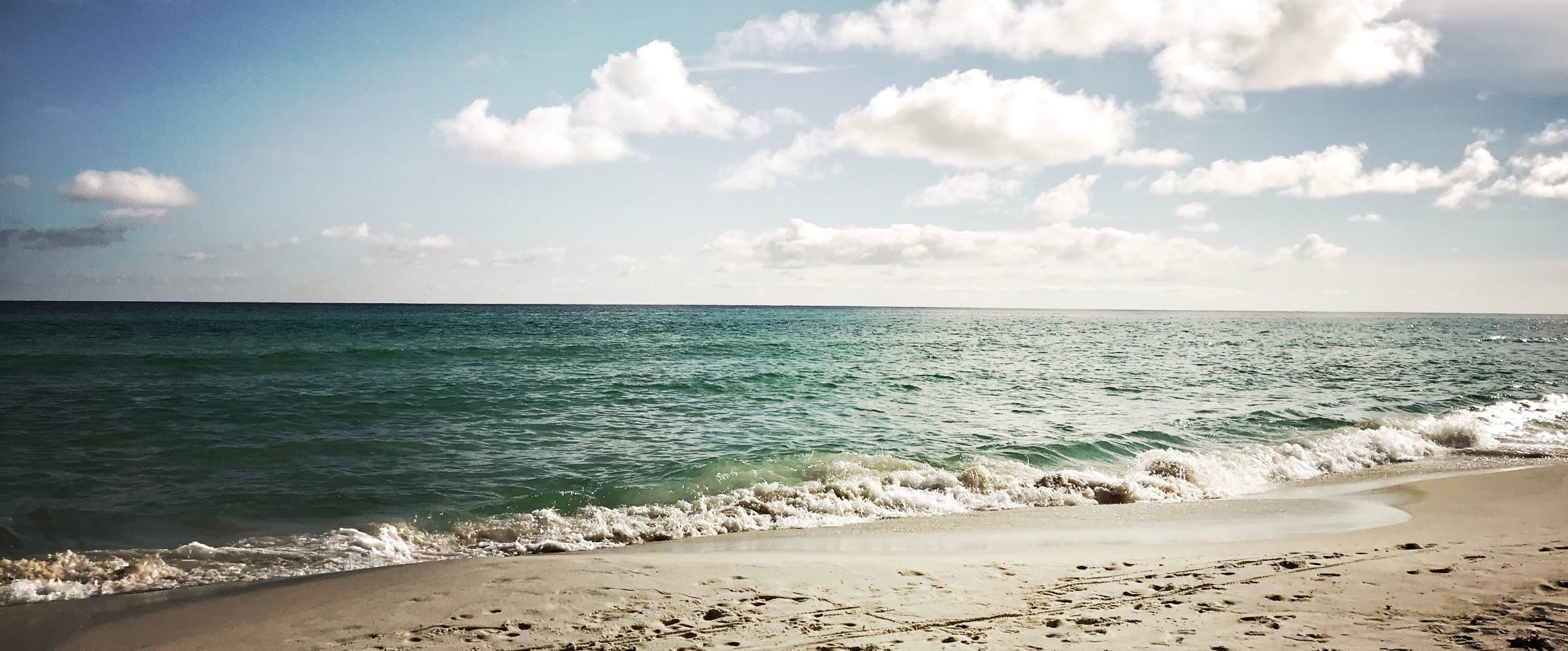 03 Aug

Business lessons learned at the beach
Business lessons learned at the beach
While school is getting back in session, the summer break and memories will still linger with many for some time. A few short weeks ago, Pete Adams took a vacation break to Seagrove Beach in Florida. While there, Adams took some time to think about what makes businesses successful against their competition and took notes on a few business lessons learned at the beach. 
The Tale of Two Fast Food Restaurants
Driving through the back roads of lower Alabama, one does not find many restaurants to eat along the way. In one town there were two major fast food chains right next to each other. I stopped at one on the way down, and the other on the way back, and had two entirely different experiences.
One was clean and pristine, the other not so much. One had cheerful employees who took on the large group of hungry travelers, the other had disenchanted employees looking to leave work. One had fast service, the other slow.
So what is the difference between both of these restaurants? They both have the same access to local employees. They both sell hamburgers and French fries. They both are located in the same geographic area right next to each other. They both have corporate systems for food supply and employee training. I believe the difference is a customer-oriented focus that starts with management. The well run and clean restaurant had actively engaged management, while the other had management that was not visible and engaged with the customer experience.
Lesson: Top level and mid level management must create a culture of leadership through service that front line employees will follow.
Location Location Location
While at the beach, we stopped at several ice cream shops to get our daughter ice cream. I was taken a back at the pricing of the ice cream at these shops, but gladly paid the price that was asked because our options were limited. It seems that cream, sugar, and candy just cost more at the beach where you can easily access it. The immutable laws of supply and demand held true as local ice cream shops sold very high quality ice cream, and were in a geographic location that did not offer a huge amount of competition from national chains. In all honesty, it was some of the best ice cream I have ever had.
Lesson: Carve out your niche from your competition by taking advantages of your location, service offering, and value proposition.
The Analog Gas Pump
While driving to the beach, we needed to stop and fill up with gas. As I approached the gas pump, I saw it was an old school analog pump with the rotating numbers which I remembered as a kid. You could not slide your credit card into the pump and pay, but instead, filled up and paid afterwards. This was incredible surprising to me, and even perplexing the the 20-year-old guy who couldn't figure out how to use the pump. When I went inside to pay, I found a bright and clean store, with impeccably clean restrooms, and an incredibly attentive staff. I asked the woman behind the counter about the pumps with amusement, and she told me they never got around to getting new pumps because people still need gas, and come to their station regardless. I found that to be true, but also I assume people frequent that gas station because of the level of service they find there as well. They also don't drive off without paying because they feel a loyalty to the people who work there, and the local ownership of the gas station.
Lesson: Modern technology can be good, but it never beats high quality service with a friendly smile.
The Importance of Branding
We stayed at Seagrove Beach, which is a part of several beaches on the scenic Highway 30A. No doubt you have seen the blue 30A stickers on car windows. I was impressed by the consistent branding of these 30A communities, and how it attracted homeowners and visitors to come and spend their vacation time there.
In recent years we have traveled to Gulf Shores, Pensacola Beach, Fort Walton Beach, Destin, and Panama City beach to see which area we liked the best. None of these areas have the branding cache that has been intentionally used like 30A. They have mastered the ability to systematically market their location through traditional advertising, subtle signage and digital marketing.  The other communities do their own branding, but the quality and consistency of the 30A tourism campaign wins hands down.
Lesson: Create consistent and high quality branding that will attract your target demographic through advertising and digital marketing.
Automated Marketing Systems
While on vacation, I really unplugged and intentionally tried to leave the office and our work in the capable hands of my business partner, Travis Swann, and the always fabulous, Olivia Wright. While I was away, I received two new business leads from our website that I am following up with this week. My duties in the business are to generate new business and sell our products. It was nice to know that while I was gone, our website was working 24/7, and producing leads for me to work on when I got back.
Lesson: Create digital marketing systems and invest in your business website that help sell your products and services that your company produces.
If your company needs help telling your unique story through advertising and creating lead generation through digital marketing like SEO, Social Media, Google Ads, and Website Development, give us a call or drop us an email. We would love to work with you.