18 May

Website Design Projects: Five items every business owner should know

Know the basic process when tackling new website design projects
Starting a new website design project can be a big task for many business owners.
There is always the cost involved with launching a new website that may be the main concern.
But trailing close behind is the process of gathering information and other details a developer may need to begin the process and migrate a website.
With this in mind, and in our experience, we've worked with business owners who don't know where any of their information is located.
From the domain name to hosting provider, many pay for it and leave it behind for years. 
Usernames and passwords are tucked away, and in some cases, domain names are lost because of negligence. In turn, this has cost some owners a great deal of money retrieving their domain name which was lost.
But it shouldn't be this way.
To alleviate worry and also to understand what to expect when beginning a new website design project, we've outlined five items we believe every business owner should know about the ins-and-outs of creating a new website or refreshing a current website.
Domain Name
Every website has a domain name.
It is your website name where users access your website, and one way to view a domain name is to think of it as a contact in your address book.
When it comes to ownership, your business should own the website domain. Always know where it is located, when it expires and the purchase terms.
How much does a domain name cost?
In many cases, domains are relatively inexpensive.
They can cost anywhere from $10 – $25 per year and can be purchased on annual or multi-year terms.
To find a custom domain name, websites such as GoDaddy, Bluehost, or DreamHost offer services to purchase a domain name.
Hosting
In simplest terms, web hosting details the process where your website can be viewed on the internet.
Your website is stored on a server where users access it by typing the domain name into a web browser.
The computer then connects to the server and the webpage is viewable through web browsers such as Chrome, Firefox, or Safari.
While there is more actually going on behind the scenes, this is simply the basic version.
How much does web hosting cost?
Like a domain name, you can purchase web hosting services through the aforementioned providers.
In addition, there are usually local companies in most areas who offer similar hosting services.
Depending on the needs, web hosting can begin at $5 per month and go up to $50 per month.
Like many items, sometimes the lowest cost option isn't always the best option so always evaluate your choices when selecting a hosting provider.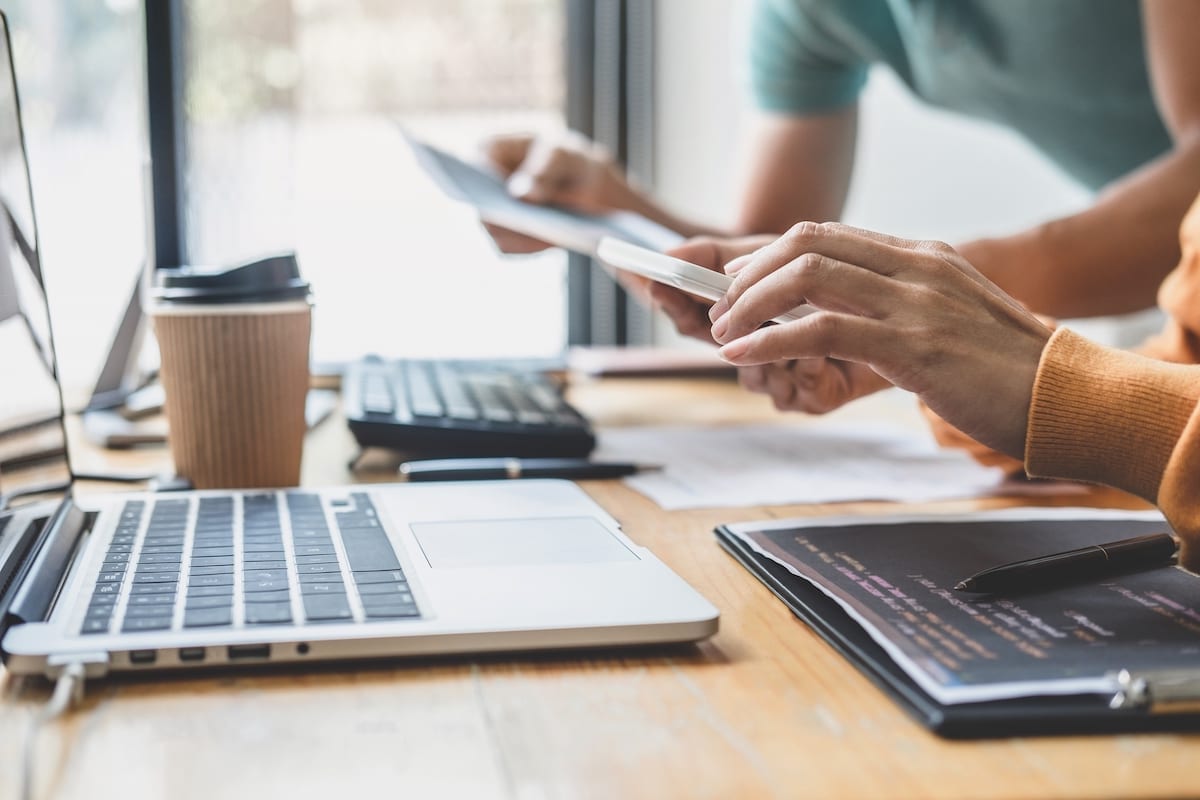 Website Security
In today's digital world, security is always a topic of interest.
As a website owner, you don't want any information compromised, whether it is your company's data or client/customer information.
With most hosting providers, they aim to safeguard the server in which your website is hosted. Think of it as a gate outside of your home.
On the same note, you should also use security plugins or integrations within your website also. This would be like locking the doors to your home at night.
The first step for web security is to purchase an SSL certificate. This measure helps with information collected by your website such as credit card numbers or emails in transit.
In addition, it's a good look for visitors when accessing your website to see the SSL lock icon and not receive a warning.
At Adams + Swann, we build many of our websites on the WordPress platform. We utilize plugins such as Wordfence to scan sites and protect from malware and other attacks.
Maintenance
If you are going to create and design a new website, one of the worst things you can do is build it then forgot about it.
When buying a car, you must put gas in it for it to run properly, change the tires, and replace parts during its lifespan.
The same is true for a website.
If you want it to perform to its highest potential, then you should have a monthly site check.
Updating plugins, running speed tests, and other web diagnostic tools are a must.
Regarding the previously mentioned item of security, regular maintenance will help you identify anything that may be vulnerable or hindering your website as well.
Ongoing maintenance and evaluation is not only good practice, but it is also helpful for search engine optimization too.
By checking in with your website regularly, you can monitor items such as site speed, image optimization, security scans, vulnerability reports and more.
Long Term Investment
Last, you should consider your website as a long term investment.
After all, this is the main channel you will use when communicating with your audience.
It's the hub of information and where prospects will make a purchasing decision or contact you.
So why not dedicate time and money to it on an ongoing basis?
In the chart below, we've broken down our process into a few short steps.
Of course, there are more actionable items that take place within this process, but these are the basics.
When thinking about a new website design, one of the first steps is the setup and planning stage.
Here you will obtain your domain name if you don't already have one, look at hosting options, and develop an overall plan for the website.
Next is the design and development stage, this is where the heavy lifting takes place.
Early stages will include collecting assets such as a website wireframe, copywriting, photography, and video. And next, you will start the development stage.
Early versions of the website are tested and revised and for a website to go live it is migrated from development.

Once a website is live, this is where many businesses stop.
As mentioned earlier, a website is similar to a car in the fact it needs maintenance. If you let a car sit for months or years, there is a chance you may have issues with its performance. The same is true with a website.
A website's performance, security, and other optimization items should be reviewed and maintained regularly.
At the same time, your website needs traffic. If normal maintenance is like an oil change, then traffic is the gasoline to keep it running.
Where do you receive your traffic if you are a local business?
If you are a local business, your traffic sources will be a mix of direct, organic, social, and paid. Having digital marketing practices such as SEO, PPC campaigns, and email marketing in place is pivotal after a website is launched.
Begin a new web experience
To get started on a new web project, contact Adams + Swann to schedule a discovery meeting and discuss goals and solutions.
SCHEDULE A MEETING